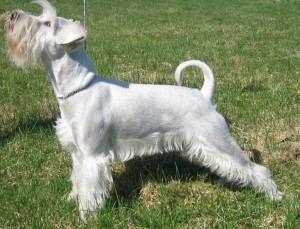 Although dog grooming has its complications, generally speaking, there are only a few dog-cutting patterns. All of the "known" dog hairstyles are mainly variants of basic cutting pattern. Knowing the basic cutting patterns can help you to understand the look you are trying to achieve without looking through pages and pages of photos.
Below is a short guide to some of the most common and widely used cuts for dogs (don't worry cat lovers, we'll follow with a blog just for cat cuts soon).
All Over (Even) style – Sometimes less is more. The all over style is the most basic of all, but one of the most enduring styles used by dog owners the world over. The coat is cut to an even length producing a clean look.
Cocker style – Cocker style cuts are very popular and are appealing on most breeds. It uses a linear pattern that blends the back of the coat. Typically, a #10 blade achieves the result, although some may opt for a lower cut via a #7 blade. The skirt and legs remain full; usually getting a slight hand trim for contour. Options for the face are a natural furry look or shaved.
Lamb Cut – Have a fluffy dog? The lamb cut offers an adorably cute look that instantly catches the eye. After a length is chosen for the coat, the leg's fluffy hair is left intact but blended into to body.
Lion cut – Not every dog can pull off the lion cut. However, if your dog can, the rear is close shaven to the skin. The front of the coat is cut in a tapered manner to mimic a lion's mane.
Schnauzer cut – Don't let the name fool you. A Schnauzer cut is not limited to the breed. There are several breeds that can utilize the style. Like the Cocker style, a #10 or 7 blade is put to use in a similar fashion. However, the Schnauzer cut makes use of very deliberate sharp shaping of the ears, eyes, cheeks, and beard.
Looking for a great look for your dog? Give us a call. It's A Dog's Life Mobile Spaw serves all of the Temecula, Murrieta, Fallbrook and Wildomar for all their pet grooming services