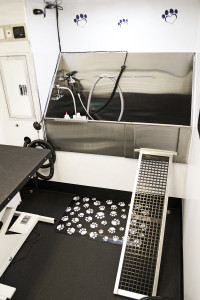 Welcome to "It's A Dog's Life" Mobile Pet Spaw
We are a full-service mobile grooming salon.  We serve the Temecula Valley and surrounding areas including Wine Country, Murrieta, and French Valley
Our goal is to provide you with excellent customer service and to provide your pet with a stress-free, pleasant grooming experience.
"It's A Dog's Life" Mobile Pet Spaw is professionally certified, licensed and insured.
We are in this business because we love and care for animals and their health and well-being.  You can feel confident that your furry friend's welfare and comfort are our top priorities. We know trust is earned and we truly appreciate your business. Your continued patronage is the biggest compliment we could receive.  Your pet will leave the salon feeling healthy, happy, pampered, and beautifully groomed.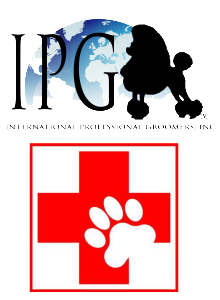 Experienced, Certified and Caring
We are far more than just a great mobile salon. We offer the best in pet spaw services in the Temecula area for both dog and cat grooming and all with tender loving care.
Kristi is truly a professional groomer. She's a graduate of Amber's Academy of Pet Styling and received many hours of hands-on training from master groomer, Amber Lewin. From her training, she's well informed of the conditions that may accompany severe fur matting as well as general pet health conditions. She is IPG certified (International Professional Groomer's) along with CPR and first aid certified.
Big Or Small We Groom Them All
Kristi specializes in senior pet care and has a vast knowledge of information and experience when it comes to large and giant breed dogs. Our mobile salon is able to accommodate any size pet from the tiniest of breeds to the largest. This really sets us apart from other mobile grooming services in Temecula valley and surrounding areas. "Big Or Small We Groom Them All"
"Sit, stay, and relax because we'll come to you…"
Why Mobile Pet Grooming?
We think it's best for your pet. Your special friend won't spend time cooped up in a carrier during a long drive. There are no cages or crates involved at all. Just a state of the art mobile salon, heated and air-conditioned, with hot water for comfortable bathing. Your pet will experience minimal stress as a result of a quiet, comfortable, and safe place. Plus your pet will receive our one-on-one undivided attention.
It's also great for you. Grooming takes awhile, so you'd either have a long wait or have to work both a drop-off and pick –up time in your busy schedule . By choosing us there's no drive time and no interruption of your day. In many cases you don't even have to be home after the first appointment.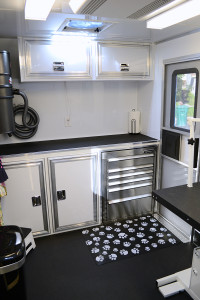 Our Happy Clients
Shaun Struyck

After using a few mobile/non-mobile groomers Kristi has now become our go-to-groomer. She always does such an AWESOME job with turning our dog (Chase)from a wilder beast into a handsome Husky again. She handles Chase perfectly and he loves it! "You can definitely trust her with your BFFs!" Thank you Kristi for taking care of our buddy and we'll see you in a few months! =)

Doug & Nancy Elliott

Our shi-poo never looked so darling!! Kristi took so much time pampering our baby Kasey, and we couldn't be more grateful. Her trailer is beautifully maintained and her love & passion for what she does shines through & through. With so many groomers to choose from and constant disappointment, we are thrilled we finally found It's a Dog's Life Spaw = )

Julie

Thank goodness a friend recommended me to Kristi's mobile groomers. My dogs mean the world to me and Kristi did such a great job on them. They are a bit nervous of groomers, but Kristi made them feel comfortable, which made me very happy. She is clearly passionate about her work. Her trailer was immaculate, which shows me that she also cares about my dogs health and well being. I will never use anyone else now. Thanks It's a dogs life...

Kelly Abraham

Kristi has groomed 3 of my pets a couple of times and I'm very happy with how nice they look. My dogs can be difficult and Kristi handles them so well. I have a long haired cat I have shaved into a lion cut and Kristi does a great job. I would recommend It's a Dog Life Spaw to everyone.

Geanie Brittain

I have a really big, long haired cat that had matted fur all over. He wouldn't let me brush or trim his hair. Kristi and her mom came to my house and were able to groom him. They are amazing, he was not afraid at all. He looks beautiful, feels better, and is so much happier!
Thank you so much!

Monique Loera

It's a Dog's Life Mobile Spaw just finished with my Lab and Kristi and her husband were AMAZING and super sweet! My Tara looks so cute and they were so loving and gentle with my little old lady. Thank you for such amazing care and work! We will see you again soon!

Cheyanne Cook

Kristi is absolutely amazing! She loves the animals as if they were her own, she has an eye for detail and cares about her work quality. She is so sweet and easy to communicate with. I give 2 thumbs up!!!

Leslie Knox-Rainey

Had my 3 dogs professionally bathed by It's A Dog's Life Mobile Pet Spaw today - Kristie came to the house and bathed all the dogs, trimmed nails as needed, cleaned ears and treated them all with massive amounts of TLC. She did a fantastic job and I highly recommend her !!! Thank you so much Kristi !!!!

Amy C. Temecula

We have an aging Golden Retriever and it is hard for her to get in and out of our SUV, even with steps, when I saw the Mobile Pet Spaw parked out front of our neighbors house I had to give it a go. I am so glad I did. Christy was prompt, even three days before Thanksgiving when the grooming is busy I am sure. Christy spent an hour and 45 minutes with our Sandy, she cleaned her, groomed her, clipped her nails, brushed her teeth and cut off some of the hair just behind her ears(special request). Boy did Sandy look great and smell great. The price was fair and consistent with other groomers in the area, but our dog came out happier than usual and it is so convenient having them come to your home. I have and will recommend Christy to friends and neighbors!

Vicki Higgins

Had my two dogs groomed by Kristi owner of Its A Dogs Life Pet Spaw, this was the first time I used her and a mobile groomer. Both of my baby's loved her, I can tell that she has a great deal of compassion and love for animals by the way my two went right to her when she was talking to them. Kristi is very professional and has a wonderful personality, I will use her again and highly recommend her mobile grooming company. Thank you again Kristi for a job well done they both look great Vicki Higgins

Telesha Killebrew

Kristi is absolutely the best. I definitely recommend Kristi. She does a great job, very caring, clean and professional. Her love for animals shows with the way she cares for them and how she takes her time. Great personality and convenient. Top notch service. Kristi Thank you for doing such a great job. Top notch service. You are the best.

Cynthia Russell

Kristi is the best. If your looking for a pet groomer you will be happy with Kristi. Very convenient, awesome service and professional. Love the mobile trailer, its very clean, modern and so cute. You can see the care she has for her craft and the animals. Overall you and your pet will be very happy. Thank you Kristi.

Linda Mork

If you want your pup looking their absolute BEST, Call It's A Dog's Life Pet Spaw !!! Great prices & a Great job ...my dog's always come out happy, looking good & smelling great they love her. Kristi treats your dog/dogs & cats with tender loving care as if they were her own. She loves all animals big, small, young or in their senior years. Kristi is always so kind, and will listen to exactly what you want. She is everything I look for in a groomer, and Temecula is SO lucky to have her!! If you need a perfect pup hair cut you will get everything you've wanted from Kristi's skill! I will definitely be calling Kristi for my again for my next groom. She affordable & the customer service is great!!!

Cynthia

Kristi is absolutely the best. I definitely recommend Kristi. She does a great job, very caring, clean and professional. Her love for animals shows with the way she cares for them and how she takes her time. Great personality. Kristi Thank you for doing such a great job. You are the best.

Sara Hartman

We absolutely love the way Kristi grooms our schnauzer. Zoey gets so excited to see her which is a first with groomers, as the process has scared her in the past. Kristi really takes her time with her and is very thorough. We also love the fact that Kristi brings the doggy spa to us…super convenient! I would highly recommend her!!!

Robin Zeal

I would highly recommend Its a Dogs Life Spaw for pet grooming. I have a very active Lhasa Apso, I appreciate that Kristi takes her time grooming her. She does a great job, Molly looks like a show dog when she is finished!! Thank you Kristi

Giti

The Spaw is nice neat and clean the owner Kristi is kindhearted and sweet . Your dog would be treated royally ,I'm so happy I found her ,easiest way to get my little spoil dog groomed .THANK YOU Kristi

Kris Greggersen Druckenmiller

Thank you Kristi!!! My dogs are so happy! Great job, can't wait for you to come over and clean them up again!! Thank you thank you!!
 Like Our Services Please Click Here To Write A Review